Missions

OUR MISSIONARIES:
One Collective in Uzhhorod, Ukraine
Doug & Marina Landro
Doug is the Catalyst for One Collective in Uzhhorod, Ukraine.  His main task is to bring people together in the community to help the oppressed and lead the team.  He also is the Director of Rroma Ministries, Director of Families in Crisis Ministries, and develops the social businesses for the team.
Doug is a graduate from Bethel West Seminary in San Diego, California where he earned his M.Div.  He served as Pastor of Youth and Family Ministries for 15 years in Southern California.  In 1997 he was sent by Reach Out Youth Solutions to Ukraine to coach churches in youth ministry starting RD which is a leading youth organization in Ukraine. In 2005 he co-founded International Teams Ukraine which has sent over 100 kingdom workers to 14 countries.
Youth For Christ- Imperial Valley
Jeremiah Vik
Initiated locally in 1994, YFC-IV continues a history of youth evangelism and discipleship that began with Friday night Street Levels meetings. In 1996, Todd Evangelist became executive director and the ministry began to focus on campus outreach. For more than a decade YFC has been the vehicle for local youth pastors and leaders to meet students on campus and give them the opportunity to get connected to a local church. The work continues today, as the torch was passed on to Executive Director Jeremiah Vik. Currently engaging over 700 students each week at 18 different ministry sites, YFC impacts thousands of teenagers in the Imperial Valley.
TEAM-Transformados
Phil & Pattie Eager
Our exciting ministry initiative seeks to transform lives through utilizing sports and other community initiatives as powerfully effective evangelism and discipleship tools for extending the Kingdom of God in Mexico and beyond. Transformados serves children, youth, and families through recreational, educational, and spiritually focused ministries and outreach. We currently work with elementary, middle school, high school, and college-aged youth. The ministry started with a focus on basketball as a means for building relationships and community involvement but has expanded into incorporating other sports within that program. Our goal is to expose our youth to a variety of skills and fitness through various sports as an alternative to drugs, alcohol, abuse, human trafficking, cartels, and dropping out of school. Through these relationships, we can share the love of Christ by inviting our youth to studies, activities, and one on one discipleship.
Website: https://team.org/initiatives/transformados
Facebook: https://www.facebook.com/transformadoslapaz/
Instagram: https://www.instagram.com/transformadoslapaz/
YUGO Ministries
Leonard & Pati Janssen
YUGO Ministries is an interdenominational, non-profit, missions organization seeking to impact Mexico and transform the world. Our purpose is to mobilize the church, equip leaders and reach the lost. ABF has been actively involved with YUGO for many years.

YUGO is a community of believers from all over the world who are passionate about inviting YOU, God's people, to join us as together we build sustainable change in Mexico.
MISSIONARY GOSPEL FELLOWSHIP:
Duane Kepner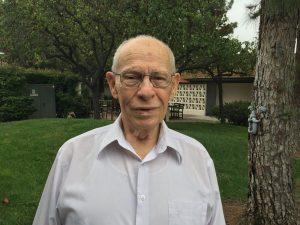 In earlier years Betty and I shared the Gospel of Christ in Northern Baja California, Mexico, speaking in Spanish. In 1984 the Instituto Biblico Logos, IBL (Logos Bible Institute) was begun in Ejido Tamaulipas. Although we are gone, the IBL continues today to train Mexican Christians to pastor, teach and witness for Christ.
I, Duane, now minister mostly in counseling and in prayer in either English or in Spanish. People contact me at any time. My theme is: God loves you. Trust Him.
Evangelizing opportunities are frequent. I preach or teach or pray whenever invited. Feel free to contact me.
MGF missionaries meet monthly to pray and to encourage one another. Daily God leads us as we pray for His direction.
Praise God.
Website: https://www.mgfhq.org/kepner
Friends of Israel
Nathan & Laura Montgomery
We do campus ministry at UCLA, using a table and literature to draw those students and visitors who are willing to talk about spiritual things.
We have relationships through our local Chabad synagogue, where we have participated in over 15 class series with the Jewish Learning exchange.
We lead the ORIGINS volunteer program in Israel, serving several weeks each summer with a local congregation and at the Kaplan Medical Center in Rehovot.
Website: https://store.foi.org/p-34-nathan-montgomery.aspx
Mission Aviation Fellowship
Tim Ault
Tim and Roxanne moved to the Seattle area to work remotely with a primary responsibility of maintaining the currency of MAF's technical publications library. Tim feels truly blessed to continue to play a vital role in the ministry of MAF in this area which is critical to the safety of our flight operations around the world. Roxanne went home to be with the Lord in the fall of 2020. Tim has now moved to Texas and continues to work remotely with MAF.
 Website: https://maf.org/missionaries/ault/